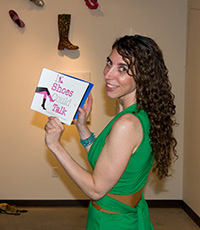 Artist, designer, and award-winning art educator, Jennifer Merdjan has been making sculptures by repurposing every shoe she has worn for the last 27 years, and she has no plans to stop in the future.  She has exhibited her shoe sculptures in New York City at the Plaxall Gallery, the Material for the Arts Gallery, and the 92Y Tribeca Gallery, and they were featured on Univision's Control TV show. Her book

If Shoes Could Talk

 sold at Pylones located at Grand Central Station, NYC. She has also donated her book and artwork from the 

If shoes Could Talk Project

 for auctions to raise funds for the  United Nations and the American Heart Association.
"Every shoe tells a story of where you have been and where you are going.   By repurposing utilitarian objects that most people use, I act as a catalyst to bring out the passage of time hidden within them.  This metamorphosis encourages the viewer to endow these overlooked objects with temporality and subjectivity, restoring the viewer's own awareness of the dynamic changes of life."